Determination of layer and coating thickness by white-light interference
In many high-technology industries thin film coating or layer deposition plays an important role. Therefore accurate layer thickness characterization and control are indispensible quality control parameters in product development and manufacturing processes.
Optical spectroscopy is a well established technique for the thin film layer determination. Based on the interference phenomenon, resulting from white-light partial reflection/transmission through two partially reflecting surfaces of film, layer thickness ranging from 100 nm up to 150 μm can be measured in milliseconds.
Advantages of optical layer thickness determination:
Fast (real time)
Non-contact
Non-destructive, non-invasive
No sample preparation or wastage
Proven technology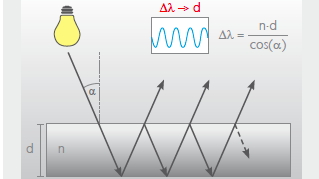 Hier Bild Description einfügen
Furthermore, using optical spectroscopy, layer thickness is measured in non-destructive and non-contact way. This holds true even for layers that are not transparent in the visible spectral range, e.g. lacquers.
Finally, layer thickness is derived from interference pattern evaluation using Fourier-Transform method.
Sophisticated technology combined with decades of experience guarantee optimal solutions for various layer or coating thickness determination applications.